There's no doubt that Taekwondo is not only a martial arts style, it is by far if not one, the most, spectacular one in the world because of the speed achieved by those who wear a Taekwondo uniform but also by the amazingness of the kicks performed. This has resulted in records that have transcended time and the ages and that are the measuring bar for each and every generation.
THE RECORDS
One of the most interesting taekwondo world records to date is, without a doubt, the one set in India back in 2016, specifically on December 24th, 2016 when 1,152 participants, each of them wearing his or her Taekwondo Uniform, performed the largest display of Taekwondo moves recorded to date, the event was hosted and organized by JR International Taekwondo Academy and Indian Martial Arts Academy team.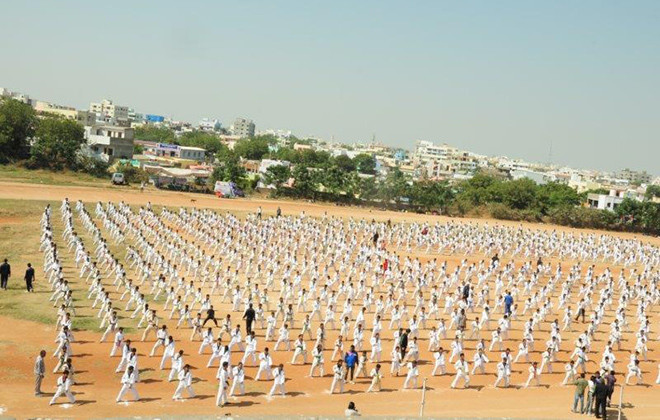 Another interesting record to talk about is the one set by one Kerim Ahmetspahic, taekwondo black belt from Bosnia, who, on March this year, broke over 111 concrete slabs to establish a new Guinness World record in this specialty.
He did not only go and broke this huge amount of concrete, he broke them with his head, and furthermore, he did it performing summersaults between each set of concrete blocks. Talk about adding spectacularism to an already complicated effort. And if you want more, he performed this tasks in just 35 seconds. That is about three concrete blocks broken per second, an absolutely impressive speed by the Bosnian Master.
And if we want to talk about speed, we need to talk about Grand Master Jayanth Reddy. This 8th Dan Black Belt Master from India has been wearing his Taekwondo Uniform for over 40 years, learning while at the same time teaching new generations the way of this beautiful martial art.
Master Reddy gained world recognition not just because of his career in Taekwondo but also because he also has the Guinness World Record for fastest punch with over 352 punches thrown in just a minute.
It is said that Grand Master Reddy's history began in his early years when he came across a book about Taekwondo that was being read by his brother. This little detail was the trigger that made him start training and ultimately become the 8th Dan Grand Master he is today.
OLYMPIC RECORDS
There are other records that do not involve individuals or showdowns but performance in the Olympic games, being the homeland of Taekwondo, which holds both male and female records for more World Championships with 19 championships won between 1973 and 2009 while having 12 championships won by female athletes from 1997 to 2011.
If we talk about Olympic victories, we need to talk about Japanese Taekwondo practitioner Saori Yoshida who has won three gold medals (Athens 2004, Beijing 2008 and London 2012). In the men's division, the record is held by Japan's very own Kaori Icho who also has won three consecutive gold medals in the aforementioned games as well.
Taekwondo is a Martial art that gives every practitioner the chance to not just excel both physically and mentally but also to leave his or her name in the book of records for posterity.