Jcalicuusa.com ships throughout the 50 continental United States*. We typically ship items immediately as they become available. Our goal is to inform you when an item is not available for immediate shipment. We process orders on a first-come, first-served basis. In-stock items on orders placed before 2 PM EST will typically be shipped out the same day.
We don't ship to APO/FPO or P.O. Box addresses. Attempts to ship to a P.O. Box will delay and in most cases prevent delivery of your order.
*Residents of Alaska and Hawaii should send an email to order items.
Tracking your Shipment
You will be notified of the tracking number for your package(s) via email. To ensure you receive your tracking number, please ensure that your email address on your account is correct.
Shipping within the 50 United States
The following options are available on orders being shipped within the 50 United States:
Ground shipping.

►Shipping rates depend on weight/size of the items. In addition there may also be a surcharge on oversized packages and/or carrier surcharges, which may include fuel surcharges and residential/rural charges.
►Ground service may take from 2 to 7 business days depending on where you are in the country. Ground service is available for the 50 continental United States. The following map shows estimated Ground shipping times from jcalicuusa.com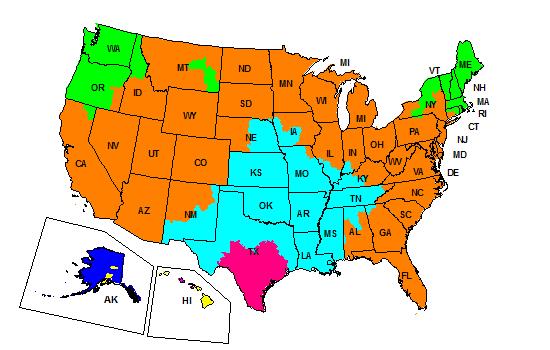 2nd Day delivery is available for most products. Send us an email to get a shipping quote on 2nd. Day delivery.
All orders placed at 2pm or after will not ship out until the next day. All orders placed on Friday at 2pm or after will not ship out until Monday. 2nd. Day delivery does not include the day the product ships out.
Ground delivery or 2nd. Day delivery orders are not delivered on Saturday or Sunday. All orders should be delivered by the end of the estimated delivery day.
2 DAY EXPRESS SHIPPING TABLE
Shipping day is based on Time and Day order is placed
SHIPPING DAY
ESTIMATED DELIVERY DAY
Monday
Wednesday
Tuesday
Thursday
Wednesday
Friday
Thursday
Monday
Friday
Tuesday
Note: These options are all based on business days. Orders placed on Saturday or Sunday will be processed on Monday. The day an order is processed does not count as a shipping day.
All shipping rates are subject to change without notice.